What is a Domain Reseller
The question I always get is what is a domain reseller account? Domain Reseller accounts allow you to provide domain registration service. A domain Reseller account is necessary in order to link it to WHMCS to automate domain registration, renewal and transfer. If you do some research, you will end up finding multiple service providers aka Registrars offering domain reseller account and each one has different pricing for each domain extension.
Domains' Hierarchy
In order to know a little about how domain reselling works, you should know all that there is in the domain business. Above all of them is ICANN. ICANN is a non-profit corporation for domain name system management. After ICANN will be Registry. These people will administrate and regulates domain extensions may it be generic or country.
The next in line is the one that we widely have known and come across. They are the Registrars. The well-known one is GoDaddy, namecheap, ResellerClub, NameSilo, Enom and there are many more. Each one of this Registrar have their own domain reseller program and pricing. We have compared a few Best Domain Reseller Services and list their pricing. You can take a look at them.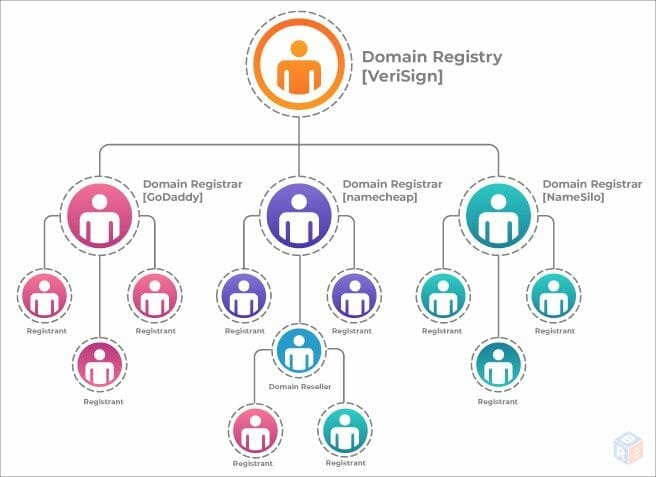 The image above shows the Domain Name Hierarchy
Domain Reseller
Resellers play an important role and it can be quite profitable if you plan your business accordingly because it can be quite expensive to register directly with Registrars. If you sign up as a Reseller at the correct place with cheap pricing, then you definitely have an upper hand in providing better pricing compared to leading registrars. I feel getting a Reseller account at the best price is essential. If you can get FREE WHOIS Privacy along with the domains, then you are on the right track.