Green Geeks Reseller Hosting Review
{{ reviewsOverall }} / 5
Users
(2 votes)
Pros
Unlimited SSD Disk
Free SSL
Multiple Server Location
Enhanced Security
Excellent performance
Free Migration
Free eNom Domain Reseller Account
Free Backup
Cons
You need to find clients who wish to host Unlimited domains due to the cPanel account restriction. It will not be profitable to provide anything less then Unlimited Hosting
GreenGeeks Overview
GreenGeeks was founded in 2007 by Trey Gardner and they have been growing steadily ever since. The company was founded in California and currently host over half a million websites with over 40 000 satisfied clients.
The CEO's background gives a positive impact on the company images since he has been in the web hosting business since 1999 and has worked for or have helped to build 8 web hosting companies including; iPowerweb, iPage, StartLogic, Dot5Hosting, Globat, Lunarpages, Hostpapa and finally GreenGeeks.
01 Performance
We have a blank WordPress site loaded on their Montreal Data Center and we are monitoring the server uptime and performance. The site is hosted from a Reseller Hosting Plan and not on their Shared Hosting Plan that is offered on their website. We do this so that we can get valuable insights for our GreenGeeks Reseller Hosting Review.
The Apdex score is a ratio value of the number of satisfied and tolerating requests to the total requests made. Each satisfied request counts as one request, while each tolerating request counts as half a satisfied request.

In simple word, the server's performance is good if the score is close to 1 and bad if close to 0.
To top it up, we also use a tool called Bitcatcha to test GreenGeekss responses to requests from different geographic locations.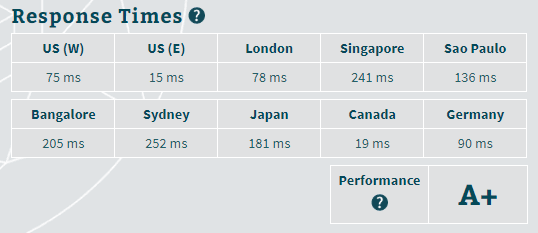 The blue line represents response time and the green line represents the increasing number of visitors. The result shows that our test site has no performance issue and handle 25 unique visits at the same time.
Speed Test
We also gathered speed test result of the hosted site from multiple locations for our GreenGeeks Reseller Hosting Review. We have shared our findings in the table below. The loading time is below 1 second for America and Europe while below 2 seconds for other regions. By far, this is the best speed test result that we have seen so far. They brand as Green Hosting but it is actually Super Fast hosting experience with this host.
Data Center / Speed Test Location

Montreal
Fully Loaded Time

Germany -518ms
Londan - 929ms

North America
Washington D.C - 679ms
San Francisco - 435ms

South America
Sao Paulo - 853ms

Tokyo - 1.52s
Sydney - 1.72s
Speed test scores may vary a few milliseconds if you try to do the test again since server peek time and other factors can affect it. So, I will suggest to run the test yourself again using our test site URL if necessary.
02 Pricing
GreenGeeks offers a very good introductory pricing. Their pricing is a bit different when compared to other hosts. Most hosts price their plans based on the quota of disk space but here the plans are priced based on the number of cPanel accounts. Since they provide unlimited SSD webspace, so they have set the limit the number of accounts.
You can also purchase additional accounts without upgrading to their next plan. The pricing structure is as below
Reseller 10 – $3.00 per hosting account
Reseller 20 – $2.75 per hosting account
Reseller 30 – $2.50 per hosting account
Reseller 40 – $2.25 per hosting account
Reseller 50 – $2.00 per hosting account
They also have a no-questions asked money back guarantee within the money back guarantee period of 30 days.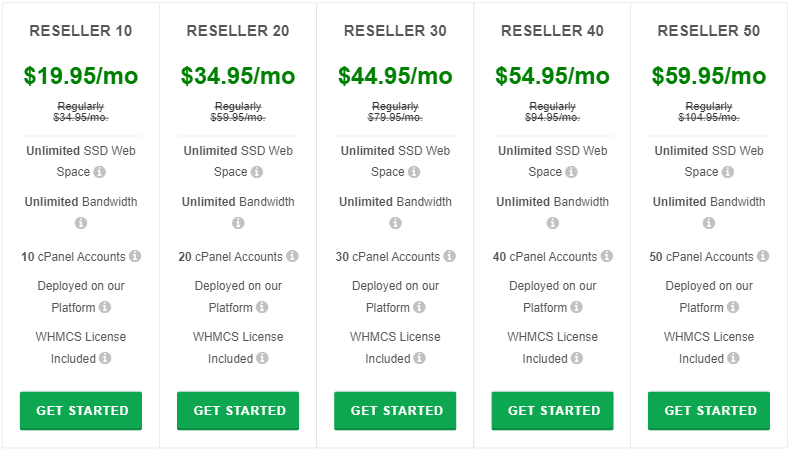 Another thing I notice regarding their price is that they only provide three choices for Billing Cycle(Monthly, 3 Months and 12 Months). They don't have 2 years or 3 years billing cycle. So you can't sign up for a longer-term for a discounted price. The max you can go with is their yearly plan.
03 User Friendly
GreenGeeks have a nice and clean UI. Since they are into Green Hosting so mostly you will see a lot of green colored theme on their site.
04 Support
GreenGeeks has many support channels aside from their strong knowledgebase. They provide 24/7 Email Support, Live Telephone and Live Chat Support.
They also have many tutorials that might come in handy for you to produce your own knowledgebase articles.
05 Features
GreenGeeks Reseller Hosting cPanel has Select PHP Version function. This plugin is really useful because it allows us to select the PHP extensions that we require like soap,xmlrpc,zip, and ioncube which is needed for WHMCS to run perfectly. Most hosting environments don't have this by default.


The image above shows GreenGeeks Reseller Hosting account cPanel.
Conclusion
Of all the hosts that we have monitored so far, we must say GreenGeeks outperformed all of them. They don't have the best response time but fully load time result is the best. Their site loads faster even if you access it from the US or from Asia which is very good for a Shared Hosting environment.
If good performance is what you are looking for, then this is the right host for you. They are a bit expensive on the renewal and you can only host 10 accounts in their lowest package, but the positive side is that you can purchase additional accounts without upgrading the package. This makes a big difference in growing your business.
I would strongly recommend this host.
Disclosure: We are a professional review site that may receive a commission if you click through and make a purchase. Our reviews are purely based on experience. We are independently owned and the opinions expressed here are our own.
What people say... Leave your rating
Order by:
Be the first to leave a review.
Show more

Pros
Unlimited SSD Disk
Free SSL
Multiple Server Location
Enhanced Security
Excellent performance
Free Migration 

– 30 Accounts

Free eNom Domain Reseller Account
Free Backup
30 Days money back guarantee
Cons
Expensive Renewals
You need to find clients who wish to host Unlimited domains due to the cPanel account restriction. It will not be profitable to provide anything less then Unlimited Hosting
Server Locations
Chicago, US
Phoenix, US
Montreal, CA
Amsterdam, NL