A2 Reseller
Hosting Review
{{ reviewsOverall }} / 5
Users
(0 votes)
Pros
SSD Disk
Free SSL
Multiple Server Location
Enhanced Security
Excellent performance
CloudFlare Free CDN
1 Free Dedicated IP
Free Migration
Free eNom Domain Reseller Account
Server Rewind Backups
A2 Overview
A2 Hosting was first started in 2001 by Bryan Muthig more as a hobby and provided hosting for family and friends. The company name A2 was chosen as a tribute to their home town of Ann Arbor, Michigan.
A2 also practice GreenHosting and in 2007 they have partnered with Carbonfund.org a leading organization in the fight against global climate change to offset their carbon footprint. Carbonfund.org works together with A2 to fully offset their servers' CO2 emissions. 
In our A2 Reseller Hosting Review, we will try to list and point out their Pros and Cons.
01 Performance
If you have visited A2 Hosting website, you would have noticed that they continuously repeat about SPEED and TURBO. Well, they are not wrong. A2 Hosting keeps up to their advertised performance.
One of the pluses of A2 is that they have many Data Center to choose from (Michigan, Arizona, Amsterdam, and Singapore.) This will be very useful so that you can get the nearest server location to your country. Although you can use their CDN to speed things up, getting a nearby server location is a definite plus.
02 Pricing
Their price is also very reasonable for the quality of the hosting environment and support that you get. If you have enough investment to start a web hosting business, I would strongly recommend you to get their 3 years plan. I say this because the discount they are offering is worth it for you to jump into a long term plan.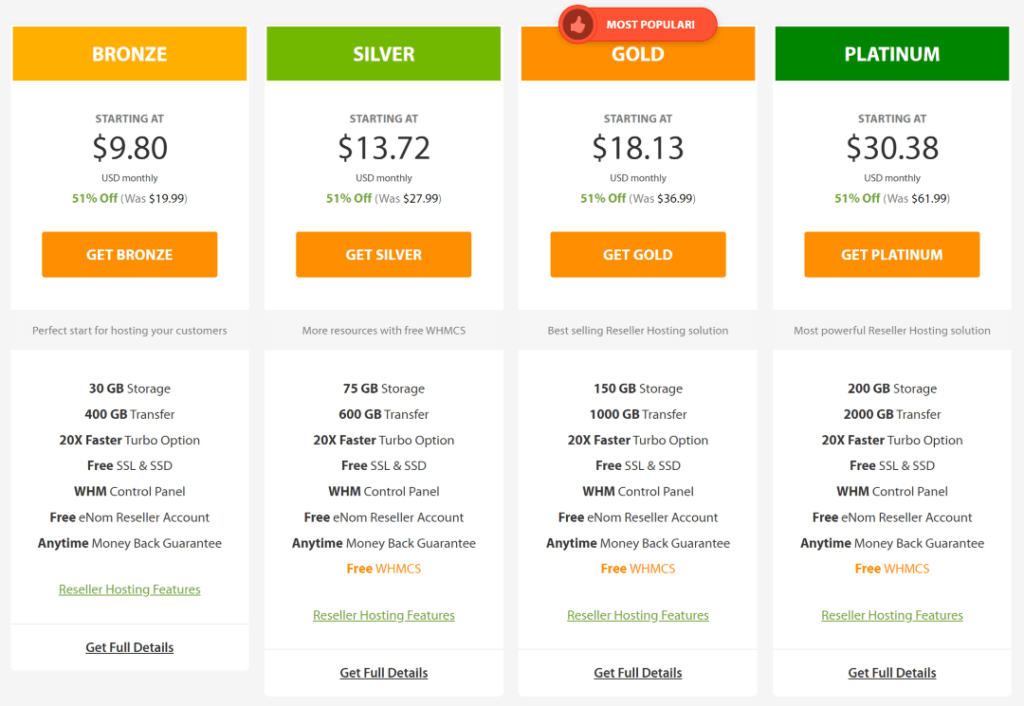 Not satisfied with A2 after sign up? Here comes the best part. They have an ANYTIME MONEY BACK GUARANTEE. So that means no contracts and you can cancel at any time. You have less risks. Anytime Money Back Guarantee does not mean that you can host for 6 months and request your money back.
Their Anytime Money Back Guarantee means you can cancel your account within your first 30-days for a full refund, or anytime after for a prorated refund of unused service after 30-days. It's that easy. So far, A2 is the only Reseller Hosting provider that gives such a guarantee but such guarantee doesn't come without a strict policy.
Customers who desire a refund on a prepaid account after 30-days will be re-billed at the regular price as opposed to any discounted price from the use of a coupon. Only the difference between the prepaid amount and the re-billed regular price will be refunded. 

03 User Friendly
A2 User Interfere is very clean and neat. You also have lots of features on their client management area..
04 Support
I have to say their support is one of the best. When you are choosing a reseller hosting plan, customer support is one of the utmost priority. You don't want a host that take 24 hours to reply a support ticket because you will have clients who are pushing you so for a solution for their issues. Choosing a host that have 24/7 Live Chat can help to solve many of your headaches. When you are in the hosting business, you will get many sorts of clients, and patience is not one of their thing.
05 Features
Most hosting companies only provide Free WHMCS License key with their plans but A2 goes a little further than that. You can also choose Blesta billing software if your more comfortable with it.
Conclusion
I would strongly recommend this host based on our A2 Reseller Hosting Review because I never had any issue when configuring WHMCS for clients. I also received positive feedback from clients who Resell with them.
If you are not on a budget and looking for long term investment, then this is the right host for you. You can go with their 3 Year plan and choose the nearest Data Center to you.
Disclosure: We are a professional review site that may receive a commission if you click through and make a purchase. Our reviews are purely based on experience. We are independently owned and the opinions expressed here are our own.
What people say... Leave your rating
Order by:
Be the first to leave a review.
Show more

Pros
SSD Disk
Free SSL
Multiple Server Location
Enhanced Security
Excellent performance
CloudFlare Free CDN
1 Free Dedicated IP
Free Migration
Free eNom Domain Reseller Account
Server Rewind Backups
Cons
Server Locations
USA (Arizona)
USA (Michigan)
Europe (Amsterdam)
Asia (Singapore)