ResellerClub Reseller Hosting Review
{{ reviewsOverall }} / 5
Users
(1 vote)
Pros
Free SSL
Free reseller account
Free migration
CloudFlare integration
Varnish Caching
Multiple Server Location
Cons
HDD Hosting Environment
Live chat only for sales
Control panel UI can be improved
Service Fee to add fund into reseller account
ResellerClub overview
Resellerclub was founded in 1998 in Mumbai, India. They have been in the industry longer than most leading hosting companies out there.
If you did some research, most reseller hosting companies provide free ResellerClub or Enom account. That is because these two are giants when it comes to Domain Resellers. You can easily link ResellerClub reseller account to your WHMCS via API and start selling domains. There are also some paid addons that could enable you to sell all of their services from your WHMCS. I'm not going to talk much on that here, but you can drop me an mail if your keen on it. So if you sign up with ResellerClub, you have it all to start a web hosting business.
In our ResellerClub Reseller Hosting Review, we will try to list and point out their Pros and Cons.
01 Performance
ResellerClub servers are still powered by HDD. We are in the process of setting up a demo site to monitor their server's performance. We will be updating it here soon once we have sufficient data.
02 Pricing
Resellerclub has lots to offer for its price. If you look at my comparison table, their pricing is quite cheap when compared to others. They used to be cheaper but for some reason, they have stopped their R0 Reseller Hosting Plan. You can easily link your Cloudflare account from their cPanel with a single click.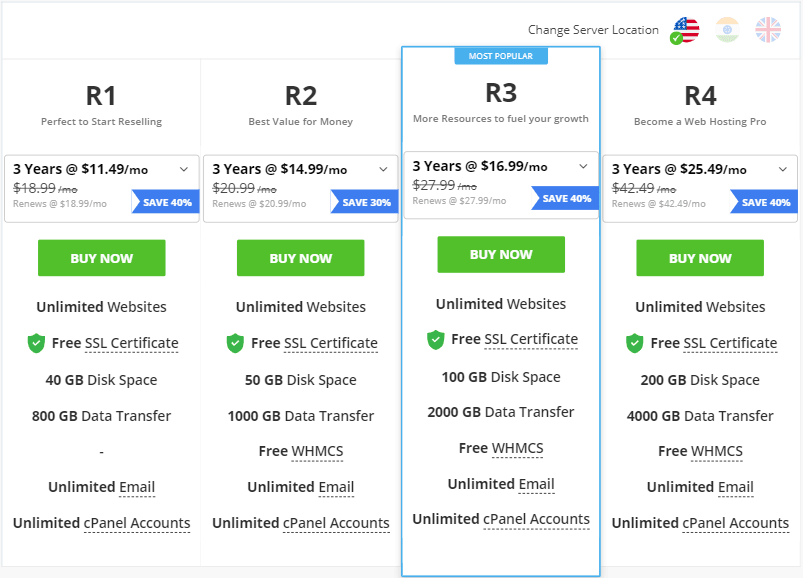 ResellerClub has 3 server locations to choose from but they only provide signup discounts for their US servers. The web disk quota remains the same for all three server location but the price and bandwidth varies. US server has the cheapest pricing.
One of the major drawbacks in their pricing is the hidden pricing. Resellerclub will charge you to add fund into the account. So basically you have to add a 2.70% on top of their advertised pricing.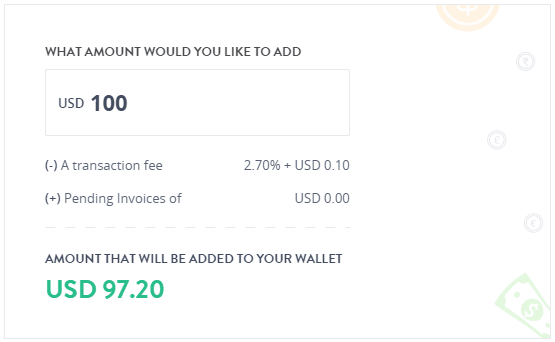 Add fund using Pay.pw: USD Credit Card Payments via Visa/MasterCard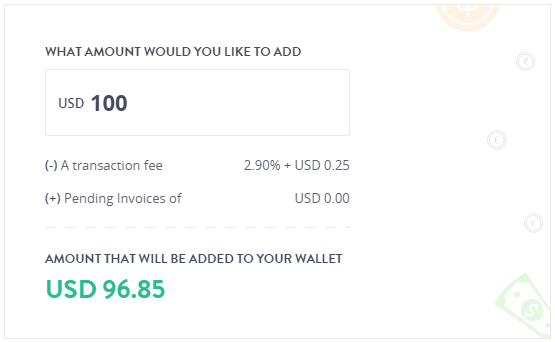 Add fund using PayPal
The only way to add fund without transaction fee is to use WebMoney. But still, in order to add fund into WebMoney, we still have to pay transaction charges. So if you choose ResellerClub, get ready to pay extra for their services. I never see any other host that charges as them.
03 User Friendly
Resellerclub and all LogicBoxes based resellers have the most visually poor appealing admin platform. It has a lot of features, but not a treat to your eyes.
Luckily, they are currently in the process of updating their dashboard and I quite like it. The old panel is still accessible and you can switch to it with a single click. The new panel is called the Web Pro Panel and they have done a very good job in improving it.
04 Support
For the past few years, ResellerClub had stopped live chat support and only provided support via tickets. Support was very slow and unacceptable. You will need to wait about 24 hours for a reply. Support was really bad.
But recently in early 2020, we contacted their support since we had a problem to whitelist a client IP on their control panel and got to know that they have upgraded their customer support and have brought back live chat. This was a big relief since now support will be instant. Well, they do have 24/7 call support, but we can't always make International Call just to get support. This will put a big hole in your pocket.
05 Features
In terms of features, they surpass their cons. Their cPanel is feature-rich. You can easily link your account to CloudFlare with a single click to benefit from free CDN service.
They also have select PHP function on their cPanel which is a very good feature that allows you to select any PHP extensions that your site needs.
Conclusion
Back then in 2012, I started my Reseller Hosting with ResellerClub. After my detailed research for months, I finally decided to go with them. I was with them for a couple of years and then I moved to a different host as my business started to grow. The reason I moved out was due to slow support and numerous downtime experience. 
But now they have improved their support system. We are still monitoring their uptime and performance, will certainly review on that soon.
I would recommend this host based on our ResellerClub Reseller Hosting Review for those who are on budget to start a Hosting Business since their introductory price is good and worth the short.
Disclosure: We are a professional review site that may receive a commission if you click through and make a purchase. Our reviews are purely based on experience. We are independently owned and the opinions expressed here are our own.
What people say... Leave your rating
Order by:
Be the first to leave a review.
Show more
Pros
Free SSL
Free reseller account
Free migration
CloudFlare integration
Varnish Caching
Multiple Server Location
Cons
HDD Hosting Environment
Live chat only for sales
Control panel UI can be improved

Transaction 

Fee to add fund into reseller account
Server Locations