ResellerClub Reseller Hosting Review
{{ reviewsOverall }} / 5
Users
(2 votes)
Pros
Free SSL
Live Chat
Free reseller account
Free migration
CloudFlare integration
Varnish Caching
Multiple Server Location
Cons
HDD Hosting Environment
Service Fee to add fund into reseller account
ResellerClub overview
Resellerclub was founded in 1998 in Mumbai, India. They have been in the industry longer than most leading hosting companies out there.
If you did some research, most reseller hosting companies provide free ResellerClub or Enom account. That is because these two are giants when it comes to Domain Resellers. You can easily link ResellerClub reseller account to your WHMCS via API and start selling domains. There are also some paid addons that could enable you to sell all of their services from your WHMCS. I'm not going to talk much on that here, but you can drop me an mail if your keen on it. So if you sign up with ResellerClub, you have it all to start a web hosting business.
In our ResellerClub Reseller Hosting Review, we will try to list and point out their Pros and Cons.
01 Performance
ResellerClub servers are still powered by HDD.
We have a blank WordPress site loaded on their USA Data Center and we are monitoring their server uptime and performance. The site is hosted from a Reseller Hosting Plan and not on their Shared Hosting plan. We do this so that we can get valuable insights for our ResellerClub Reseller Hosting Review.
Response Time Test
The demo site is performing quite badly with regular downtime and also their average response time is 1333ms. Due to this, the APDEX score is 0.74 for the monitoring site.
The Apdex score is a ratio value of the number of satisfied and tolerating requests to the total requests made. Each satisfied request counts as one request, while each tolerating request counts as half a satisfied request.

In simple word, the server's performance is good if the score is close to 1 and bad if close to 0.
Load Test
We also wanted to see how our test site will handle traffic during peak time. For that, we use a tool called Load Impact.
The test gradually sends traffic up to 50 visitors at once for a duration of 12 minutes to see how the server handle the active requests. It turns out, our test site has performance issues. Increased HTTP failure rate detected on the test site.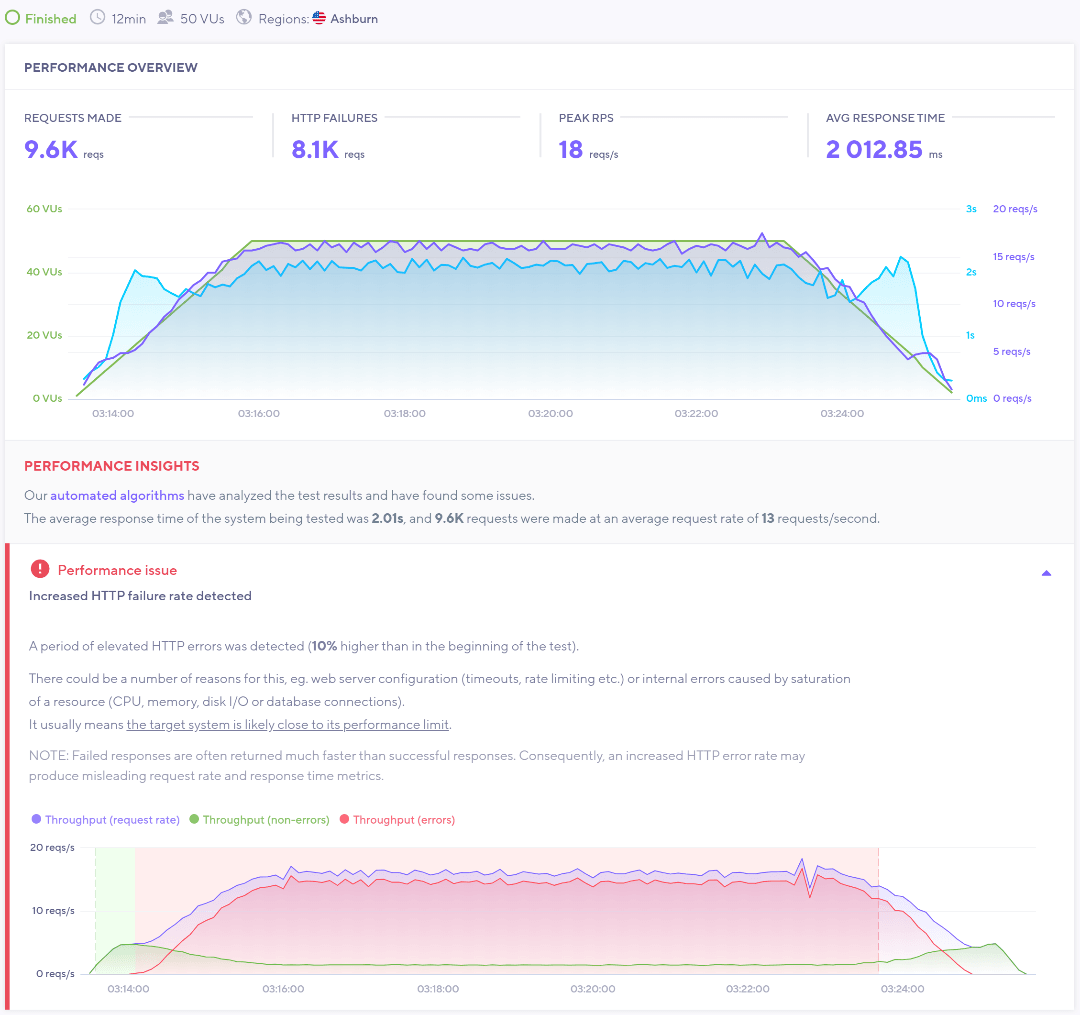 The blue line represents response time and the green line represents the increasing number of visitors. The result shows that our test site has performance issue. This issue usually means the target system is likely close to its performance limit.
Speed Test
We also gathered speed test results of the hosted site from multiple locations for our ResellerClub Reseller Hosting Review. We have shared our findings in the table below. The demo site did better on speed test when compared to the load test. The loading time is below 1 second for North America while more than 1 seconds for other regions.
This is quite normal since Data Center location has a positive impact on Loading Time. So you should always choose the Data Center that is nearest to you. We can surely bring down the loading speed if do some speed optimization and enable CND on the site. Since this is a test site, we never do any speed optimization.
Data Center / Speed Test Location

Germany -1.16s
Londan - 1.09s

North America
Washington D.C - 552ms
San Francisco - 582ms

South America
Sao Paulo - 1.47s

Tokyo - 1.42s
Sydney - 1.66.s
Speed test scores may vary a few milliseconds if you try to do the test again since server peek time and other factors can affect it. So, I will suggest you run the test yourself again using our test site URL.
02 Pricing
Resellerclub has lots to offer for its price. If you look at my comparison table, their pricing is quite cheap when compared to others. They used to be cheaper but for some reason, they have stopped their R0 Reseller Hosting Plan. You can easily link your Cloudflare account from their cPanel with a single click.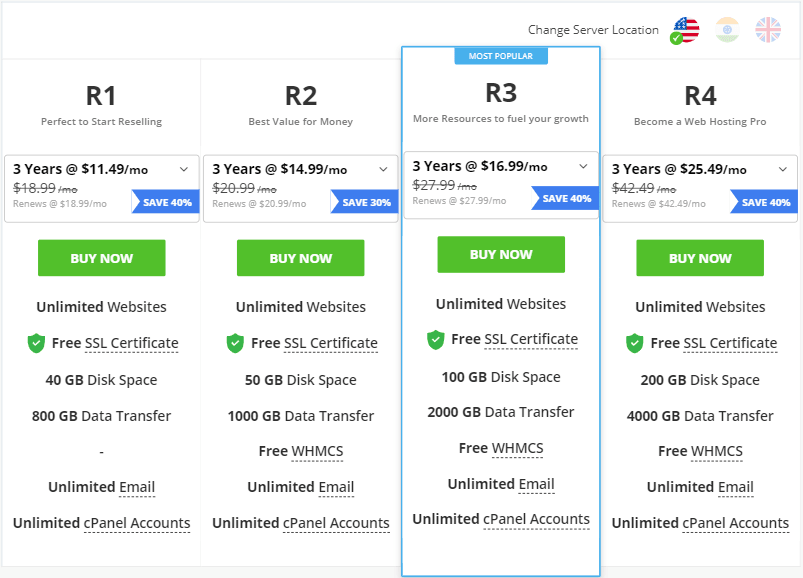 ResellerClub has 3 server locations to choose from but they only provide signup discounts for their US servers. The web disk quota remains the same for all three server location but the price and bandwidth varies. US server has the cheapest pricing.
One of the major drawbacks in their pricing is the hidden pricing. Resellerclub will charge you to add fund into the account. So basically you have to add a 2.70% on top of their advertised pricing.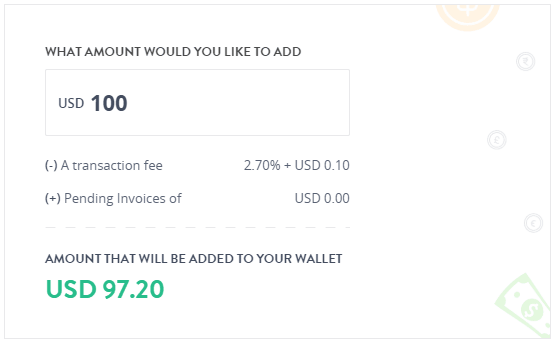 Add fund using Pay.pw: USD Credit Card Payments via Visa/MasterCard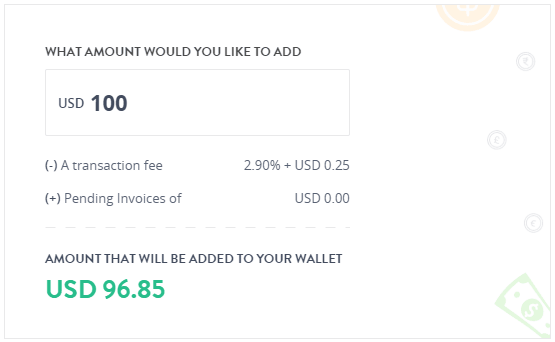 Add fund using PayPal
The only way to add fund without transaction fee is to use WebMoney. But still, in order to add fund into WebMoney, we still have to pay transaction charges. So if you choose ResellerClub, get ready to pay extra for their services. I never see any other host that charges as them.
03 User Friendly
Resellerclub and all LogicBoxes based resellers have the most visually poor appealing admin platform. It has a lot of features, but not a treat to your eyes.
Luckily, they are currently in the process of updating their dashboard and they have done a splendid work. The old panel is still accessible and you can switch to it with a single click. The new panel is called the Web Pro Panel and they have done a very good job in improving it.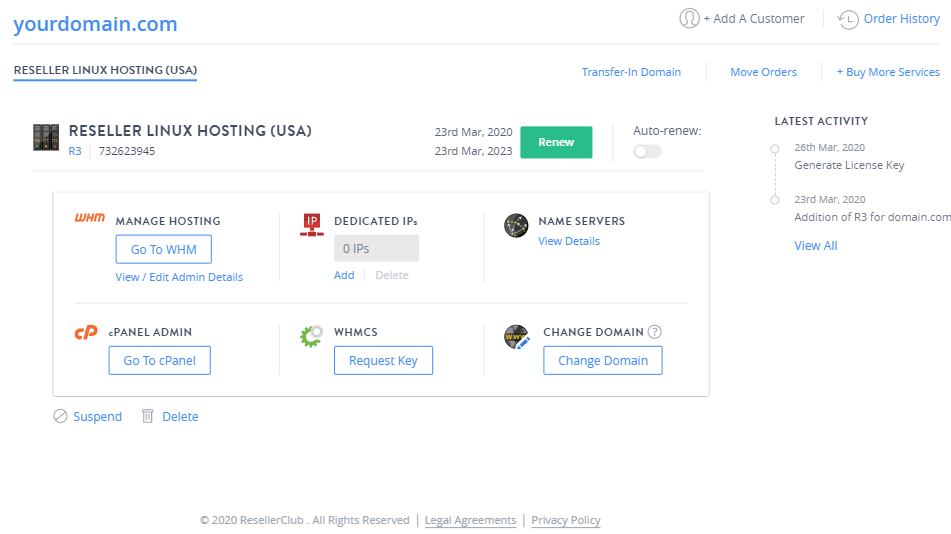 ResellerClub Order Management Console
Their client area is very straight forward. You can view eveything on a single page without the need to nagivate to seperate tabs.
04 Support
For the past few years, ResellerClub had stopped live chat support and only provided support via tickets. Support was very slow and unacceptable. You will need to wait about 24 hours for a reply. Support was really bad.
But recently in early 2020, we contacted their support since we had a problem to whitelist a client IP on their control panel and got to know that they have upgraded their customer support and have brought back live chat. This was a big relief since now support will be instant. Well, they do have 24/7 call support, but we can't always make International Call just to get support. This will put a big hole in your pocket.
We have contacted support multiple time recently and they are always available and provide decent support even during the pandemic.
05 Features
In terms of features, they surpass their cons. Their cPanel is feature-rich. You can easily link your account to CloudFlare with a single click to benefit from free CDN service.
Another good feature in their cPanel is the virus scanner. It automatically scans for malware and takes automatics measures to secure your data. Once it detects malicious files, the system automatically blocks outbound port and change permission of the infected files so that they are no longer accessible. You will need to delete or fix the infected files before requesting to unblock the port.
Image above shows ResellerClub Port Block Checker
They also have select PHP function on their cPanel which is a very good feature that allows you to select any PHP extensions that your site needs. This plugin is really useful because it allows us to select the PHP extensions that we require like soap, xmlrpc, zip, and ioncube which is needed for WHMCS to run perfectly. Most hosting environments don't have this by default.
The image above shows ResellerClub Reseller Hosting account cPanel.
Conclusion
Back then in 2012, I started my Reseller Hosting with ResellerClub. After my detailed research for months, I finally decided to go with them. I was with them for a couple of years and then I moved to a different host as my business started to grow. The reason I moved out was due to slow support and numerous downtime experience. 
But now they have improved their support system. We are still monitoring their uptime and performance, will certainly review on that soon.
I would recommend this host based on our ResellerClub Reseller Hosting Review for those who are on budget to start a Hosting Business since their introductory price is good and worth the short.
Disclosure: We are a professional review site that may receive a commission if you click through and make a purchase. Our reviews are purely based on experience. We are independently owned and the opinions expressed here are our own.
What people say... Leave your rating
Order by:
Be the first to leave a review.
Show more

Pros
Free SSL
Live Chat
Free reseller account
Free migration
CloudFlare integration
Varnish Caching
Multiple Server Location
Cons
HDD Hosting Environment
Transaction Fee to add fund into reseller account
Server Locations