inmotion  Reseller hosting Review
{{ reviewsOverall }} / 5
Users
(5 votes)
Pros
SSD Disk
Hosting Support is Good
Free Domain
Free SSL
Free Enom Domain Reseller Account
Free 1 Dedicated IP
Free cPanel Transfers
Cons
No Auto SSL icon at cPanel. Client find it hard to locate where to install the Free SSL
90 Day Money-Back Guarantee only on (6 and 12 month plans)
Additional charges for backup. $2/mo for the first 10GB, $1/mo for each additional 10GB
Only 2 Data Center(North America)
Support for Domain can be bad
InMotion Overview
If the term web hosting is not new for you, then you must have definitely come across these giants. They have been in the industry since 2001. I started working on their service in configuring WHMCS and WHM since 2005. They were not many clients back then who decided to host with them. Other big hosts like Hostgator are the companies that usually people go with. Another famous company that clients' often choose is ResellerClub.
But I have to say, InMotion has become a far more favourite choice among Resellers nowadays when compared to other giant companies.
01 Performance
InMotion Hosting Servers are pretty fast thanks to their SSD Drives. We have a blank WordPress site loaded on their Los Angeles and Washington Data Center and we are monitoring their server uptime and performance. The site is hosted from a Reseller Hosting Plan and not on their Shared Hosting Plan that is offered on their website. We do this so that we can get valuable insights for our InMotion Reseller Hosting Review.
Response Time Test
Based on our monitoring, we have to say that not both of their server is good. The server performance result varies for both. Los Angeles server has a steady response time and uptime when compared to their Washinton DC. At the time of writing, the monitoring site at Los Angeles Data Center's APDEX score is 1, which is very good.
The Apdex score is a ratio value of the number of satisfied and tolerating requests to the total requests made. Each satisfied request counts as one request, while each tolerating request counts as half a satisfied request.

In simple word, the server's performance is good if the score is close to 1 and bad if close to 0. 
Load Test
We also wanted to see how our test site will handle traffic during peak time. For that, we use a tool called Load Impact.
The test gradually sends traffic up to 25 visitors at once to see how the server handles the active request.
Image below shows result of Los Angeles Data Center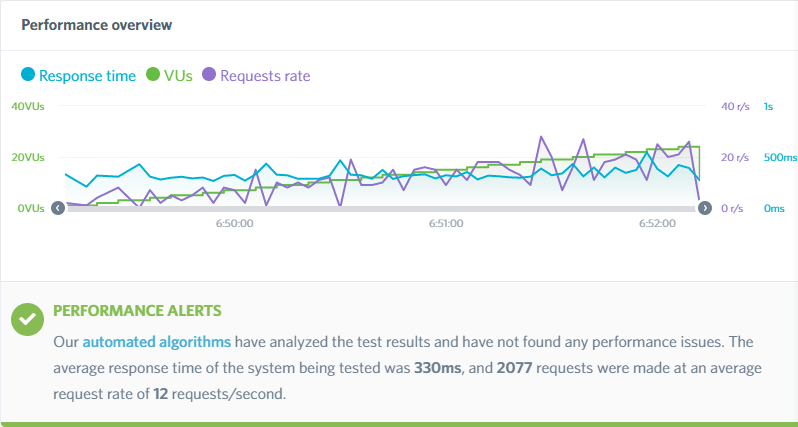 Image below shows result of Washing DC Data Center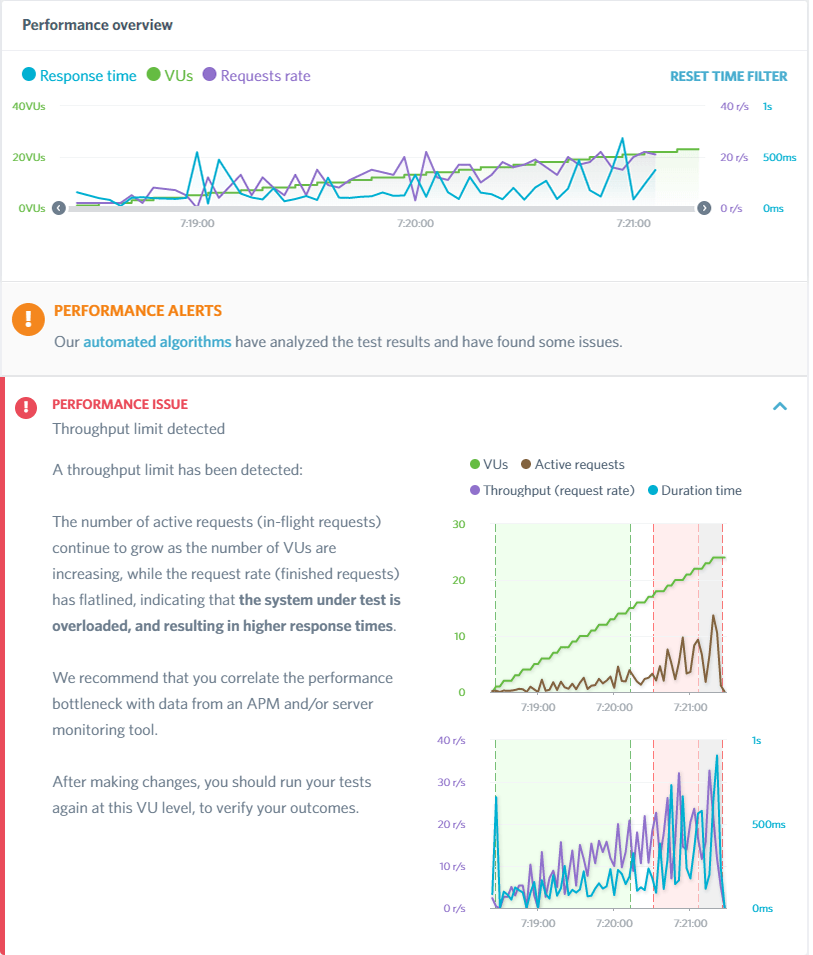 The blue line represents response time and the green line represents the increasing number of visitors. From the above test, we found that our test site on Inmotion's Los Angeles Data Center was able to handle the traffic well while the test site on Washington Data Center encountered performance issues.
Speed Test
We also gathered speed test result of the hosted site from multiple locations for our InMotion Reseller Hosting Review. We have shared our findings in the table below. The loading time is below 1 seconds for the North America for both Data Center while more then 1 seconds for other regions.
This is quite normal since Data Center location has a positive impact on Loading Time. So you should always choose the Data Center that is nearest to you. We can surely bring down the loading speed if do some speed optimization and enable CND on the site. Since this is a test site, we never do any speed optimization.
Data Center / Speed Test Location

Los Angeles
Fully Loaded Time


Washington DC
Fully Loaded Time

Germany -1.66.s
Londan - 2.37s


Germany -1.05s
Londan - 1.48s


North America
Washington D.C - 975ms
San Francisco - 500ms

South America
Sao Paulo - 2.49s


North America
Washington D.C - 497ms
San Francisco - 949ms

South America
Sao Paulo - 1.39s


Tokyo - 2.08s
Sydney - 2.12s


Tokyo - 1.72s
Sydney - 2.55s

Speed test scores may vary a few milliseconds if you try to do test again since server peek time and other factors can effect it. So, I will suggest you to run the test yourself again using our test site URL.
02 Pricing
Most of the web companies offer you four plans to choose from but InMotion only gives you three option. This is because they don't have a plan without WHMCS Key. Most companies provide a cheaper entry plan and ask you to purchase WHMCS License key for an additional price. Since all of InMotion plans comes with FREE WHMCS key, so they only have three plans to offer which is basically good enough. Among all the host that we have compared, InMotion Hosting has the cheapest price with additional disk spaces to offer. You can view Reseller Hosting Comparison table here.

Just like all hosting companies, InMotion offers a 90 Day Moneyback Guarantee. But there is a catch here. The Moneyback Guarantee is only valid for 6 and 12 month plans. So if you purchase a monthly plan, you can say bye-bye to your money if you choose to cancel it after a few days.
InMotion Hosting also has a Reseller VPS Plan but we will not be reviewing that here.
03 User Friendly
InMotion client area has alot to offer. All your reseller tools are easily accessible from your client area. InMotion also ofer you to change your primary domain name which is not offered by some. You can easy request for your WHMCS License key with a single click and even run AutoSSL command to install SSL on all accounts in your WHM.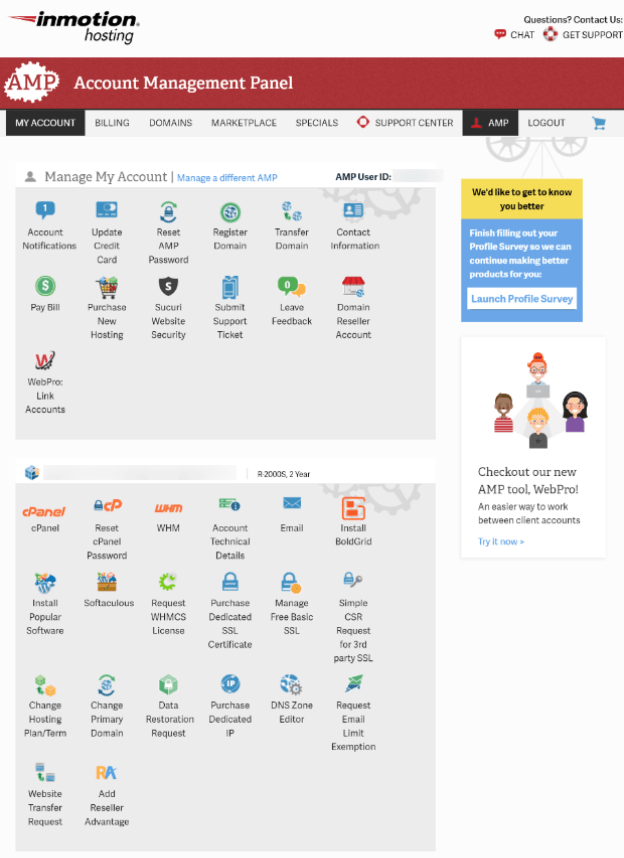 The image above shows Inmotion Hosting Account Management Panel(AMP).
04 Support
InMotion Hosting has over 5,000 helpful articles to help and guide you. Besides that they have a 24 Hours live chat and phone support if you. Their live chat wait time is reasonable and the staff is able to respond quickly.
Recently in Nov 2019, we receive an order on server migration. We migrated from Inmotion to another UK based server. We migrated each site with minimal downtime. This is a common order that we usually take but this time it was a nightmare, all because the domain was under Inmotion hosting.
Their Domain tool is very limited. You can only Set a Name Server for the domain under them or make custom Name Servers to point to their hosting environment. The client priorly had NS1 and NS2 set with Inmotion IP, so everything was working fine. After we did the migration, we wanted to change the IP to new UK server IP but their tool is limited and does not allow to change the IP. So we were forced to contact support to do it for us. But no matter how many times we change the IP, the IP does not get updated. DNS Checker Tools gave Inmotion Server IP and UK server IP because of Glue Records.
Their custom Name Server tool is only applicable if you are using their server because it automatically glue the NS to their IP. We waited for about a week and contacted support multiple times but got nothing but regrets. We even had a chat for more than an hour, but the support staff does not even understand the problem. We got so many funny and unacceptable answers from these guys. Luckily, during the fourth attempt, someone from their end really understood the problem and fix the issue for us. If you don't know what you are doing, it's probably safe for you to have your domain managed where they have proper management tool like in NameSilo. We will be posting screenshots that were taken when in touch with their support.
05 Features
They have the option to Request WHMCS License key directly from their AMP but its a manual approval process. So you will need to wait a while to get it approved. The approved key will be mailed to you.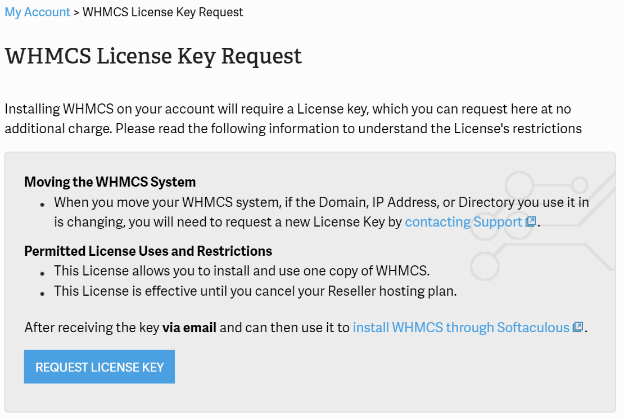 Another thing that you need to do after sign up is enabling the Free SSL. You can easily do it from their panel. The system runs nightly to add needed certificates. You don't need to log into each cPanel to install SSL, you can easily do it with a single click and the system will install SSL on all domains and sub domains hosted under your account.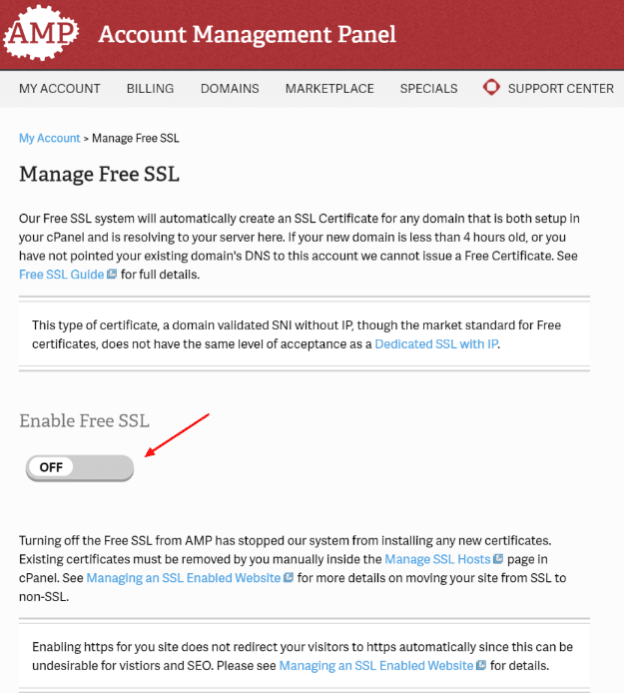 InMotion cPanel has really good features. In fact, they have more than you could ask for. They have all the basic and with many addon plugins like the backup manager, mod security manager and so on. Although they have quite a few, they are missing one feature that I often use and think it is pretty important to have in cPanel.
The feature that I usually use is Select PHP Version. This plugin is really useful because it allows us to select the PHP extensions that we require like soap,xmlrpc,zip, and ioncube which is needed for WHMCS to run perfectly. Most hosting environments don't have this by default.

The image above shows Inmotion Reseller Hosting account cPanel.
There are a lot of features that you can enable from their WHM Feature Manager. You will need to create a new feature list before creating packages because AutoSSL feature is not enabled by default. So you will need to create a new feature list by enabling it and then assign it to your packages. 
Conclusion
I would recommend this host for all although our bad personal experience with them since they are still good as a whole. In fact, InMotion is the first on my list for a recommendation if the client is from the US. Since you know their weaknesses, you can know what to avoid.
Disclosure: We are a professional review site that may receive a commission if you click through and make a purchase. Our reviews are purely based on experience. We are independently owned and the opinions expressed here are our own.
What people say... Leave your rating
Order by:
Be the first to leave a review.
Show more

Pros
SSD Disk
Hosting Support is Good
Free Domain
Free SSL
Free Enom Domain Reseller Account
Free 1 Dedicated IP
Free cPanel Transfers
Cons
AutoSSL feature not enable by default.
90 Day Money-Back Guarantee only on (6 and 12 month plans)
Additional charges for backup
Only US Data Center
Support for Domain can be bad
Server Locations
Washington, D.C. (US East Coast)
Los Angeles, CA (US West Coast)